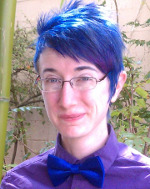 This January, Aspiration embarked on a telecommuting adventure by hiring a team member stationed on the East Coast. That remote person is me! I'm Willow Brugh, your friendly new Community Leadership Strategist, brought on board to continue work with the digital response community, social justice affects on complex systems, and to document processes (sometimes with stick figures!).
Ah, that first-day feeling. The slight nerves from infinite possibilities and having no idea what is going on. Being surrounded by new people, new sounds...
Except... when you're telecommuting. Then, what does the first day look like?
Getting acquainted with the onboarding checklist
It can be difficult to tack down what needs to be done in person and what can be done online. A great way to orient yourself to these to-dos is to go through your onboarding checklist—a document that lists all the things that an organization needs to do when bringing on new staff, interns, or contractors.
Consult this checklist to figure out what has to be done in person (e.g., passwords, encryption key swapping); what is preferred to be done face-to-face (introductions and tours); and what can be done remotely (paperwork and website tours). Schedule a future time to do the in-person tasks, and predict what difficulties may occur in the meantime. If an in-person time is too far out, are other modes of transferring information acceptable? Threat models sure do come in handy!
Developing transparent work flows
When you're separated from your coworkers by 2,600 miles and three timezones, how do you keep them in the loop of your work process? More importantly, how can you help others anticipate when you may need help for better collaboration? It gets a bit tricky, when what is usually expressed through sticky notes and rolled-over office chairs, is instead restricted to chat, email, and phone calls.
I'm of the strong opinion that brilliance doesn't matter if it cannot be expressed in an understandable way. In the same vein, shared work is only possible when others know what you are up to. Being far, far away required me—as well as the San Francisco-based Aspiration team—to rethink our work flows to make them more visible.
A good start is to sit down with a friend and talk through what it is you do, until it's understandable to her. This helped break down assumptions of what is apparent to others and what is only apparent to my own brain. Drawing is also a really great exercise in this, because it helps everyone look at the same picture (literally), then find overlaps and how to work together.
Here's what my work flow looked like before starting this work...
...and how it's starting to look. Interaction is hard when you're used to plowing through everything on your own!
Where to put data?
When working virtually, the tendency is to put to-do lists and work flows into things like Google Docs or Trello with Dropbox. There seem to be entire industries built on making telecommuting easy. But in the name of ease, these closed-source clouds undermine privacy, security, and ownership of the data that I upload to their servers. So what does it look like to share data while telecommuting when we are not willing to give up security and ownership? At the extremes, we are exploring a choice between:
A highly-automated and interconnected system, at the expense of security and privacy
A very intentional system of interconnectedness, at the cost of overhead and new business processes
The latter starts from the ground up. On my first day, we set up my PGP (an open-source program for email encryption) with my new Aspiration email address, and talked through naming conventions and forwarding addresses. We are still deciding what parts of my work flow need to be online, and what should be held local to my computer and communicated about through encrypted email (PGP) channels. I'm interested to see if this less-media-rich environment will also mean we communicate with more or less nuance. As in—if I can't embed cat gifs in my update, how can I otherwise show my affection for the team? By using my words? Who does that?!
Coworking over the webz
As I've unfortunately had ample opportunity to experience, so much nuance can be lost in online exchanges. I was lucky to have a bit of history of fun and trust with Aspiration, thanks to prior events and interactions over the past couple years. But those first-day nerves can still be hard to manage when you're not laughing next to each other, but instead, staggering communication across the day's work through emails.
In the same way you'd take special care to introduce the new person around, the Aspiration crew kept in touch with me via email and phone calls in the lead-up weeks, making sure we understood each other and felt comfortable. The warm and fuzzy levels were real.
We were able to make these warm and fuzzies tactile by my coming out to California at the end of my first week to work to join the team at the San Francisco Tech Center. I arrived in California late last Thursday night to come into the office Friday, Monday, and Tuesday (at which point I got back on a plane to get ready to teach a class at Brown University on Digital Communities). This balance of remote-local-remote will help us refine telecommunication processes. I'll continue to update with mistakes and victories as we go, so others might build and share our their own practices. So far, so good.