Modesto, Fresno, and Visalia Shout Outs!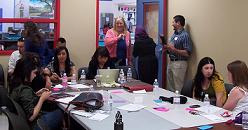 I am excited to say we had an adventurous week in Modesto, Fresno, and Visalia on a 3 day road trip. We had great food, talked to awesome people, and even finished our first Central Valley eAdvocacy Training in Fresno! There were 13 different organizations from Fresno and Visalia represented at the training. We had great local support from CMC and <a href=http://www.bgclubfc.org">BGClubFC.
The 1/2 day training started with an introduction to the different online channels and social media tools. Next, we took dives into Twitter, Facebook, and blogs. We discussed how it is important to define your organization's communication goals before jumping on each tool. We also got great feedback that you're ready for more hands on activities in our next training. Will do! Get More Fresno Training Highlights.
The listening tour continued with CWC in Visalia and CBC in Modesto. The input we received was invaluable and we are starting to set up another round of trainings now.
Check out the photos here (mostly just pictures of us eating ;P): Flickr Album