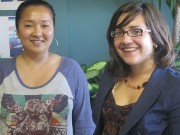 Jessica Steimer and Uno Nam are the newest members of the team here at Aspiration. As AmeriCorps VISTAs, it is their job to spend one year working on capacity building for NPOs with the ultimate goal of helping to reduce poverty. The program under which they are working, called HandsOn Tech, is sponsored by the Points of Light Institute based in Atlanta and incorporates 24 VISTAs in seven cities, all with the shared focus of using technology to make organizations more efficient and more effective in supporting their mission. Each will work with eleven non profits over the course of a year, providing workshops, assessment, and on-site support.
Let us introduce ourselves!
I'm Jessica Steimer, a brand new San Franciscan. I'm from Pittsburgh, PA where I've worked for the past few years in community and economic development. I'm very eager to get a better feel for the non-profit landscape of the Bay Area.
I'm Uno, and I'm a Bay Area resident of eighteen years but new to the world of non-profit. My past work experience includes working with special needs children and managing bar operations. I believe technology is essential for any organization to reach its fullest potential.  
To read more about Jessica or Uno, check out their bios on the Aspiration website.
How can I get involved?

The program is currently gathering information on the interests, needs, capacity and logistics of nonprofit and social justice organizations in the Bay Area.

We invite your input.
Let us know if:
you are interested in attending no-cost trainings focused on organizational online communications
know other organizations that might be interested in being included
If interested, please email us.