Aspiration's annual Dev Summit took place on Nov 17, 18, and 19, 2014 from 9am - 5pm at Preservation Park in Oakland.
This event brought together activists, nonprofit staff, and developers interested in creating technology for nonprofit and social justice efforts.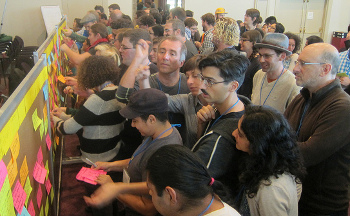 A big love bomb of thanks to all who joined in the fun at this year's highly spirited and interactive gathering of folks who are passionate about developing software tools to support the work of social change organizations and community activists.
Session topic areas:
Nonprofit Web Development
Mobile, Wireless, and Networking
Online Advocacy and Organizing
Data and Information Management
Free and Open Source Software for Nonprofits
User-centric Tech Development and Design
Digital Security and Anti-Surveillance
Engineering for Accessibility and Inclusion
eAdvocacy Platform and API survey
The State of Nonprofit CRM
Constructive Rants and Provocative Perspectives
You can check out the agenda and session notes from this 2014 Dev Summit and all our previous Dev Summit here.