Gunner opines on "Social Media, Social Justice" at the California Endowment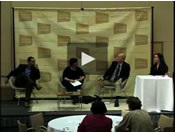 The California Endowment invited Aspiration down to Los Angeles to participate in a panel discussion on Social Media, Social Justice. The event was a wide-ranging dialog on how nonprofit organizations and campaigns can employ social media strategies to support social justice work and build healthy communities.
Gunner joined Chris Rabb of Afro-Netizen and Jessy Tolkan of Energy Action Coalition on the panel, which was moderated by Sloane Berrent of Causecast.
A video of the Q&A part of the event is available on the California Endowment web site.