What a great way to return to training in the Central Valley! Eight smiling faces joined us to talk about online presence for their grassroots campaigns last week.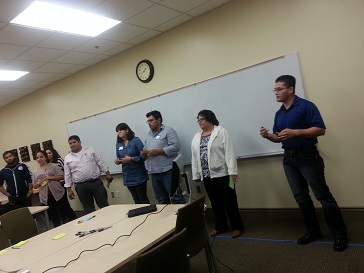 We spent the afternoon at the beautiful Ceres Community Center with individuals from Congregations Building Community and Merced Organizing Project.
During our short time together we:
Expressed varied opinions about doing organizing work in the Central Valley through a Spectrogram.
Created a Mind Map of topics to guide the agenda for the day.
Discussed the basics of using social media to effectively leverage on the ground organizing.
Built organizational capacity to update and post new content on their wordpress website.
Made a Publishing Matrix to get coordinate message across different online channels effectively.
Check out the photos of all the action.
Thanks to everyone who participated! We can't wait to head back that way soon!
Let us know where we should train next! Email us