Aspiration's eNewsletter Template
Overview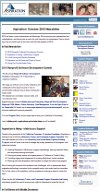 All externally-delivered bulk email messages, including eNewsletters, action alerts and event announcements, should be based on reusable email templates. Such templates are beneficial because they:
Streamline and standardize communications over time
Convey organizational identity and brand
Manifest best practices for email communication
Increase deliverability
Provide hooks for recipients to manage profiles and delivery preferences
It is important to note that one of the most essential benefits of a mature email template is that it renders correctly in the broadest range of email clients. Desktop clients such as Thunderbird, Apple Mail and Outlook all handle and display HTML content differently, and web mail clients such as GMail, Yahoo Mail, and HotMail manifest even greater variations.
Resources
The HTML eNewsletter template provided here is optimized for the Vertical Response platform, which is one of a category of bulk email tools available for nonprofit use. Vertical Response is noteworthy in that they offer "free" bulk email accounts to nonprofits, for up to 10,000 messages per month. Aspiration has no financial relationship with Vertical Response, but we do use the free product for our eNewsletter.
Usage and Feedback
The Aspiration eNewsletter Template is by no means appropriate for all nonprofit organizations, but is provided as a resource and starting point for organizations who want to improve and standardize the look and feel of their email communications. We welcome feedback and questions!