Share the California Nonprofit Technology Festival with your people! It's happening 9.27/9.28 in Fresno 9am-5pm ;) See you there!
What's Inside
Get Event Messaging
Forward the Newsletter
Copy Sample Tweets
Subscribe to the Discussion List
Share Event Links
Post Event Photos
Spread the Word
Get Event Messaging
Use or modify this text for your newsletters or websites.
I'm writing to tell you about this really cool nonprofit technology event in California with Aspiration and statewide community partners. They are delighted to announce the first-ever California Nonprofit Tech Festival. Generously funded by the California Consumer Protection Foundation, this community focused two-day event will be held in Fresno, California on 27 and 28 September, 2012 9am to 5pm. Hope to see you there! Register and get more info here: http://aspirationtech.org/events/catechfest/2012 Questions? Contact us
Download the Flyer created by our Co-Organizer CMC!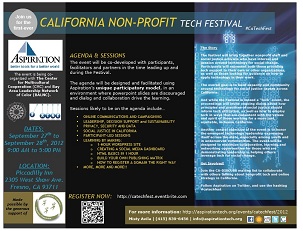 Forward the Newsletter
Click on the link to view and forward the email event message.
Copy Sample Tweets
Just copy and Paste to Twitter to share.
Use the Hashtag #CATechFest
Do you have passion around technology for social change? #CATechFest is your home away from home #Fresno http://j.mp/TzqhB0

1st California Non-Profit Tech Festival with @aspirationtech #fresno #nptech http://j.mp/TzqhB0

Exciting #CaTechFest planned in Fresno for September @aspirationtech http://j.mp/TzqhB0
Subscribe to the CA Discussion List
Subscribe to the California discussion list to talk with other nonprofits and community organizations in CA who have a passion for using tech for social change.
Share the Registration Links
Use these links to share the event.
Copy and Paste this shortened URL for social media
http://j.mp/TzqhB0
Copy and Paste the full URL for newsletters or websites
http://aspirationtech.org/events/catechfest/2012
Post Photos from the Event on Flickr
Tag your photos with catechfest
Post your event photos on Flickr
Spread the Word
Click on the buttons to share the event on your social media sites.
Questions About the Event?
We are happy to help! Contact us or call us at 415.839.6456
Looking forward to see you there!