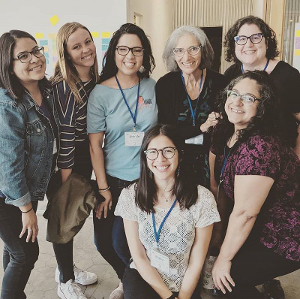 Haz clic aquí para ver este post en español.
Thank you to everyone who joined us in Los Angeles, CA on July 10 and 11 for the California Nonprofit Technology Festival!
The CA Tech Fest in Los Angeles brought together emerging leaders from across the state to collaborate with experienced practitioners and share skills, engage in critical conversations and strengthen connections across communities and networks. The agenda was designed with folks who are interested in growing their technology skills and strategic knowledge while also connecting with others who are passionate about building and organizing across the state.
California Nonprofit Technology Festivals are Aspiration's state-wide, participant-driven gatherings designed to bring together nonprofit staff, community organizers, social justice techies, activists, students, and tech capacity builders to share knowledge, build leadership, and explore how technology can be in service to our collective movement and not in control of it.
Register Now
-->
Location: We hosted CA Tech Fest at:
NAVEL
1611 S Hope Street
Los Angeles, CA 90015
Co-creating the Agenda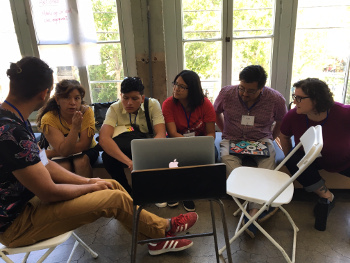 The CA Tech Fest agenda was participant-driven and collaboratively designed as a combination of planned sessions and participant-led discussions. Conversations were movement diverse and designed to uplift local and collective knowledge, wisdom, and experiences.
To make sure the topics reflected the needs, passions, experiences, and talents of the people in the room, agenda topics were based on input contributed by participants both before and during the event.
We began the gathering with a story-telling activity, where we learned about the inspiring organizing and activism taking place across Los Angeles and California, from what it's like to support youth in the Central Valley to what it's like organizing for worker rights and housing, food, and transportation justice across Los Angeles.
Then participants collaboratively hacked the agenda, facilitated sessions, held interactive demos, and connected through one-on-one skill-shares throughout the rest of the gathering.
Topics on the agenda included:
Meaningful technology access and digital inclusion
Building online communications strategies
Project management
Facilitative leadership development
Practical information security
Funding technology
Managing and protecting our data
We invite you to check out the event agenda and session notes on our CA Tech Fest wiki.
Many thanks to our Co-conveners and Community Partners
We are honored to have co-organize CA Tech Fest in Los Angeles with an inspiring group of Co-conveners and Community Partners who helped us make this event a success. We're grateful for all their support, outreach, and leadership and couldn't have done it without them!
Co-conveners: LA Coop Lab, Advancing Justice Los Angeles, Information Ecology, Eastside LEADS and Central California Environmental Justice Network.
Community Partners: The Everett Program, Media Justice and Creative Commons.
Collaborate with us on future CA Tech Fests
Interested in helping us envision and co-organize future CA Tech Fests around the state? We invite you to collaborate with us! Help us engage your allies to attend, build session topics, and amplify the work of your community.
We always welcome new collaborations with organizations and partners across the state. Please get in touch to start the conversation!
Help us continue co-creating safe and accessible spaces
We strive to host accessible events that maximize the opportunity of all individuals to participate and engage wholly in all spaces and activities, in full respect of cultural and linguistic identities, care needs, and abilities.
We invite you to check out our Participation Guidelines and Event Expectations for sharing and exploration at Aspiration events. All participants are expected to help create the most inclusive and safe space possible by honoring the Participation Guidelines and Expectations.
We welcome suggestions and ideas for how we can create even more inclusive and accessible spaces at our events. Share your thoughts with us.
Reach out to us if you want to connect or have any questions about the CA Tech Fest. We look forward to continuing this program of statewide meetings to connect and leverage technology to power our movements in just, strategic, and sustainable ways.
Co-conveners