If there was ever a space conducive to storytelling, it would be the circle that forms around a campfire. It orients us towards a shared vision, encouraging a solidarity that's hard to see when we sit in rows, facing podiums, Power Points, and stages. So when I saw the circle of chairs awaiting us at the CA Tech Fest venue, I couldn't help but smile.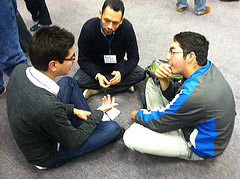 "What is our passion, our purpose?"
The first day of Tech Fest was my sixth day as Aspiration's communications coordinator. I knew little to nothing about Aspiration's history, its plans, and its events. Thankfully, there was plenty of coffee to ease the flow of conversation. By the time the first group activity came around, my obliviousness became my opportunity for bonding. I sat on the carpet with David Valdez, from the WELA Youth Institute and Anthony Macias to talk about our passions and purpose—about why we do the work we do. I couldn't say much about my job at Aspiration... because the experience didn't exist yet. Instead, I talked about writing.
Internally, I know why I write. It's cathartic. It's meditative. But my discussion with David and Anthony pushed to think further—what does my writing do for social justice? I thought about narratives, and the feeling of camaraderie that comes with connecting with other's life stories. I talked about how writing is important to me because it puts my memories into the context of a greater story, and welcomes opportunity for others to relate.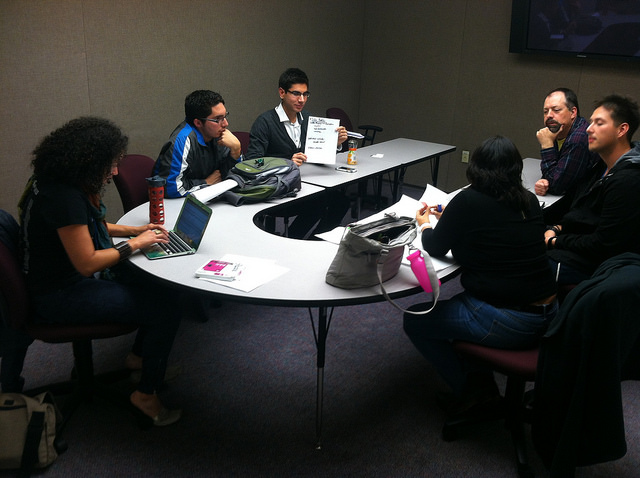 Exploring worlds in my uncharted language
After lunch came the breakout sessions. Kemly Camacho's discussion of Sulá Batsú, her cooperative in Costa Rica, resonated with me long after the day ended. We conducted the entire session in Spanish. While Spanish is my first language, it was a tongue that I used primarily as a kid, mostly in family settings; in spaces of social justice, I think and speak in English. So when we spoke in my mother tongue, about topics in development, empowerment, and political economy, it felt like I was entering a new world—a world that can't simply be bridged by translations. It is not only the grammar that is different; across language, the connotations are different, and the sounds—the light and feathery syllables—are tied to childhood memories and worldviews that live in the realm of Spanish.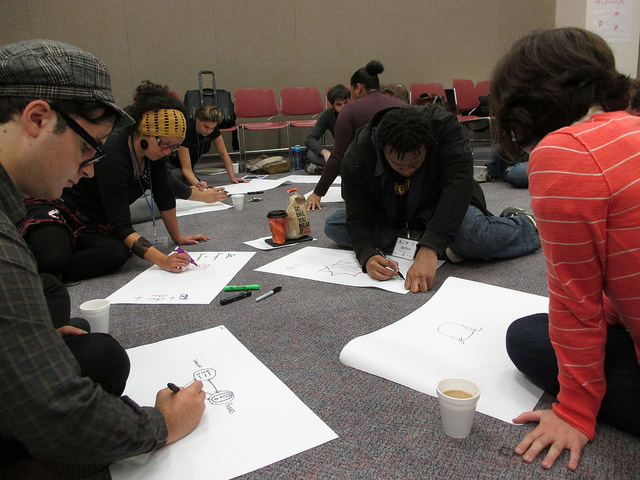 For example, we talked about autoestima colectiva. In its direct translation, it literally means "collective self-esteem". But this doesn't do it justice. See, when I think of "self-esteem", I think of the practices of selfhood, a world of self-help books, of self-image and glass reflections, of adding 'value' to the Self in the same way that one adds points to a scoreboard. A radically different process comes to mind when I think of autoestima colectiva. It can't be realized by looking in the mirror. It is about rediscovering a shared history together. Kemly talked about how participatory, youth-led documentation and storytelling of endangered conocimiento (indigenous knowledge) leads to empowerment in other areas of social and economic life. The process of fostering autoestima colectiva contributes to the realization that a person is, and has always been, an integral part of a greater struggle.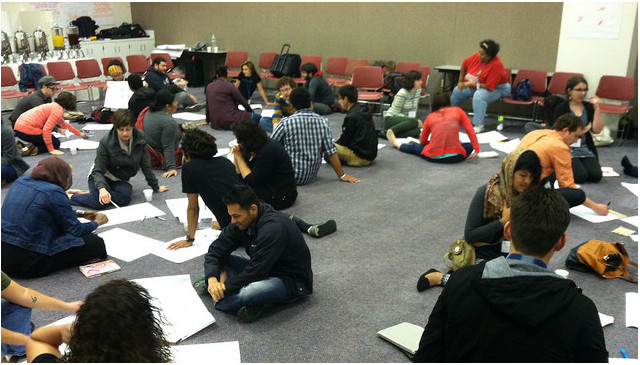 Discovering a shared identity
I saw Tech Fest as a microcosm of autoestima colectiva. The layout of chairs primed us for a shared experience—but the activities, which became more and more communal, brought me closer to realizing my place in this new nonprofit community. I've been to "nonprofit events" before. Events where I showed up, took notes, and took off. But as I became part of Tech Fest, I got the sense that I was walking into a story that was already in motion—a story with its characters, its drama, and its obstacles. I didn't come to Tech Fest to gain something and depart. I came to become a part of a community, and remain.
I got this sense when David Dexter, from the California Pan Ethnic Health Network, offered me his insight into Aspiration's communications work. Or when I sat on the floor on Friday with David and Ron Collins, wielding markers and poster paper to draw our strategies. It was reminiscent of elementary school, where our imaginations led a creative process. In this activity, we had to explain our drawings to others, which brought clarity to the collages of arrows and stick figures. At the end of the activity, a beautiful mosaic of mind maps covered the floor. Today, the drawing is still posted next to my desk as a blueprint for the months to come.
I was sad to leave early. But I take solace in knowing that our story continues to unfold. Richmond is around the corner, and between now and then is a series of Facebook messages, emails, and happy hours to be attended.